Executive Message
Started from its humble beginnings 4 decades ago, Uratex Philippines Inc. has proven itself to be one of the pioneers in automotive scene from the time when the idea of parts localization in the country started. Now, the company continues to strive and live its goal despite the abrupt changes in the industry.
Now, RGC Automotive Division's motivating passion is to give its customers excellent comfort and safety driving that they deserve.
Nonetheless, this is in line for what the company can afford to service the market. High-quality products which we propel to promote proudly. Investment in state-of-the-art machines to make the business more competitive and ready for any industry defiance. Constant development of products and company operation are also programmed as our priority action to achieve over-lead service.
Learning is in heart of every people behind the company. Seeking for improvement since day one to amplify our responsibility to our clients in giving them real satisfaction is our key protocol.
Towards every milestone, there comes returning of gratitude to the community, as we believe that we don't only owe a company but a nation, as well. We are in one with the government in advocating various projects which aid to assist local manufacturing firms. Our business extension does not only envision internal success but also to help every Filipino achieve their dreams by giving them long-term opportunities.
This, we promise, that we will continue to out-with and shall make our present and future clients proud for having experience the service we give.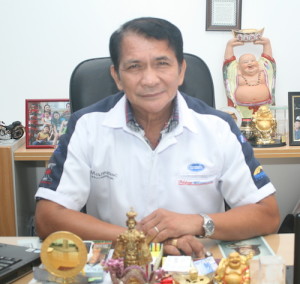 Eddie A Gallor
Executive Vice President